This morning a momentous event occured. Me and B moved his kitty from his house to mine.
Here's a picture from a year ago when all 3 of our kitties were hanging out. B was going to visit his parents for a few weeks, and his kitty (the one in front, mine are the black and white ones) came to live at my place.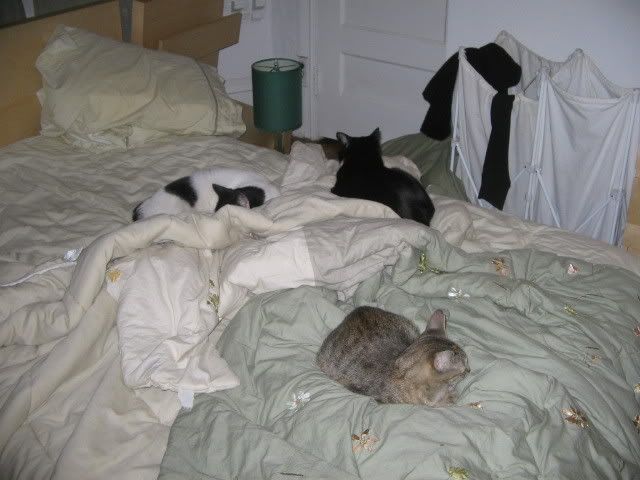 I have no picture from today, cause his kitty is baricaded in the second bedroom for a few days since she is freaking out. It took them about 2 weeks last year to get to the point where they all were sitting on my bed at the same time..and even then, if the other kitties got too close, his would start hissing and growling.
So anyways, why am I talking about kitties? Well, this time his kitty isn't only visiting, it's coming to stay. Along with B.
That's right, B is moving into my apartment. Pretty slowly actually, since he still has a few months left on his lease. So far we have about 8 boxes (mostly stuff he doesn't really need, like DVD's and old stuff from college), and a kitty. Tomorrow he moves in his computer, and after that he will start living at my place and only going to his place to slowly move in the rest of his stuff. We plan on having it all at my place sometime around May. May is also when he starts paying his half of utilities, and in June (when hopefully he will be out of his other apartment entirely and not paying rent there, although that depends to some extent on his roommate and landlord) he'll start paying his half of the rent.
I can't even begin to explain how excited I am, and how happy I am as well. We've been discussing moving in together for a year, and now that it's actually happening I'm more excited than I was when I was engaged (to not B). My officemates make comments on how unusually happy I seem to be all the time. I spent 3 hours this morning moving around furniture in my living room/bedroom so that his stuff can fit. (part of that is I need to clean 3 years of paperwork off my desk so that I can move it to the other room, since that other room is going to be our office, and the room it's in now needs room for his clothes and stuff). I have a ton of work to do at work, but I keep rushing home to move furniture around and plan stuff. It's awesome. And I've actually never been more sure of something in my life....even when I used to be engaged I was unsure of my ex (and rightly so!), but with B I have no doubts or misgivings. I'm not even nervous! And I'm the type of person who always gets nervous about this stuff! But I have never done anything in my life that felt more right to me, or that I was more happy about.
Over all my happiness lies the shadow of my parents. I talked to them today for the first time in a while, since it's my dad's birthday. They ask all about what's up, and I tell them things about school (I just got word that I'm having a paper published, I'm working on a teaching certification, I'm defending my dissertation proposal soon, etc). And I make no mention of B. And I definitely make no mention of B moving in with me.
I feel like momentous things are about to occur. My parents have flat out told me that moving in with someone I'm not married to is unforgivable to them. Worse than being a murderer, in my my mother's words.
Of course, I don't have to tell them. I had a (male) roommate for about a year once, and I didn't tell my parents the entire time- since when I casaully brought up the idea of my male friend moving in my dad was like "OMG IF YOU HAVE A MALE ROOMMATE EVERYONE WILL THINK YOU ARE SLEEPING WITH HIM!!!!!" Which I wasn't. And everyone who? My dad's friends, 200 miles away, who have no idea what's going on in my life unless my dad tells them? My dad?
But now of course I AM sleeping with him. Different him, but nonetheless.
If I didn't tell my parents, chances are they would never find out. In the 4 years I have lived in this city, my parents only visited me twice, and both in the first year. First was when we got in a big fight about how they never visit me, and second was for a wedding. If any visiting is to be had with my parents, it's always me visting them. And I haven't done so since Thanksgiving (although I did see them for about 2 hours in December at my brother's graduation). Point is, they never come here, so they would never find out. I could live with him for the next few years, we could elope, I could move off to wherever I will move when I graduate, and I can pretend that we're still dating and not living together at all. Of course at some point they will probably figure it out (probably when I move off somewhere and I'm still 'dating' him), but it could easily become one of those things that we just don't talk about. Kind of like the way he is now- we just don't talk about him.
On the other hand, if I were to tell them, how would I do it? Via email? Letter? Over the phone? In person? My parents usually have a BBQ on memorial day weekend that I go to (except last year). I could go there and tell them. Of course, I would have to wait until the end of the weekend, and make sure I had a way to get back to the train station, in case they refuse to drive me there. Or I could casually mention it as I'm stepping out of the car at the train station. Or I could avoid the whole in person thing, as it may result in my parents being crazy and bad things happening, and I'm not sure if I want to be around for that.
Furthermore, should I even tell them? What good would doing so do? Yes, I would no longer be living a double life, I wouldn't be lying about my relationship, etc. But I would essentially be cutting off my relationship with my parents. Also, it would make my parents very upset and sad. Also, as I said, bad things may happen. My dad has a gun, (and a concealed weapons permit actually) and he knows where I live, and he only lives a 2 hour car ride away. And he's seen pictures of B, and we could only barricade ourselves in our house for so long. Although I guess I could call the police and have them take him away if it comes down to that...these ideas make me feel like I should just wait to tell them until I move off somewhere far away for a job, and just not give them my address.