Catawba Crape Myrtle:
The one I got is only going to be like a foot tall though so prolly won't look like that for a few years. They bloom for 100 days of the year. They get to be about 12-15 feet tall
Since i was buying trees I also bought a baby Dwarf Meyer Lemon Tree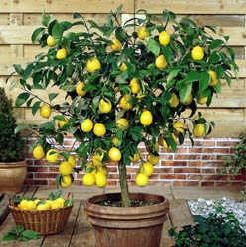 That one is going to live in a container on the porch in the summer and inside in the sun room during the winter. I'm really hoping I don't manage to kill this one, cause I am already planning out recipes in my head (meyer lemon + romano cheese + red onions also from the garden + pasta, meyer lemon cranberry walnut scones, meyer lemon bars).
Today we finally were able to finish digging out the stump which was where the crape myrtle is going to go. I've been occasionally going back there and digging at various times over the last week and today I spent like an hour digging and sawing random roots until I got the stump loose, at which point B was able to pull it out with his manly manliness.
Also today I planted sugar snap peas outside (after sprouting them indoors) and cleaned up like 8 feet of hardcore weeds in this corner near the shed, one of the last areas in the backyard I need to clean up. I was putting it off till it got warmer, but it will be in the 70s all weekend, so I'm going to go finish the crazy weed patch tomorrow and bag up all the clippings. In addition to the giant tree stump (which is heavy as hell, and I'm not sure what we're going to do with it now, but it looks pretty cool). B also sawed this skinny stump down, since the previous owners had left it sawed off at like 2 feet and it was a total eye sore. Also today I discovered some of my pepper seed planters had grown mold, so after consulting the internet I left the planters in the sun a few hours to try to dry them out, and I'm going to refrain from watering them for a while.
Spring break this week was lovely. I made significant progress on a research project, I lesson planned for next week, me and B went to dinner at the house of the other new assistant prof in my department, I did a TV interview with a reporter from the Polish Media, and I was in touch with my aunt and cousin (who are both awesome) since I had emailed them about my last week's TV appearance. My brother is also planning on coming to visit in May with his girlfriend (who I haven't met before) and we planned out that trip this week. Also did the taxes, organized a guest speaker event at my department for next week and all the gardening I've talked about earlier. Some of the flowers in the backyard have bloomed and turned out to be daffodils, white with orange centers. The hostas are on the brink of blooming, as are some of the trees and the wisteria that is hanging over the front porch.