was awesome! Completely cut off from internet, phone and television for 3 days meant that I found out Joe Biden was the VP nomination when one of the bands dedicated a song to him on Saturday night. We ended up camping in the vending area, with our good friends who were vending (the dude is an artist and was selling his paintings and prints; he's dating my very good friend and former roommate, who 2 months ago moved 5 hours away to live with him; before that she lived 2 blocks over).
Much catching up and good hanging out time was to be had. The music was great, and the stages had covered pavilions which were totally awesome in the heat of day. B came back with a terribly awful sunburn over all his face and knees and arms; this was after reassuring me repeatedly that he "Never burns, he only tans." Oy. I made liberal use of the sunscreen and managed to come home with only a lovely tan.
I also came home with new jewelry!
Two new glass pendants I bought myself (a clover and a terrapin) bringing me up to 5 glass pendants total (I think I'm starting a collection):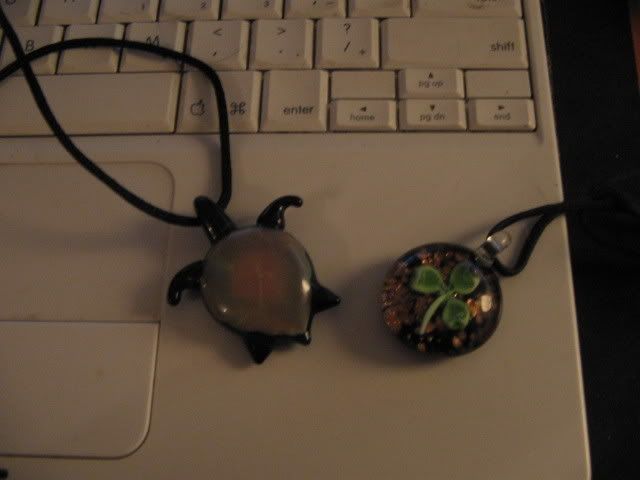 And B bought me an engagement ring! (that I picked out) It's amber with silver wire.